There's a restaurant chain in my neck of the woods called T Bonz Gill and Grill. One location is on Market Street, right in the heart of downtown Charleston. I've never eaten there, although, we did stop there once for a beer.
So, when one of the guys that I used to work with brought a food concoction for his lunch several months ago and said it was a copy-cat recipe from TBonz, I didn't have a clue. Potatoes and ranch dressing and cheese and bacon, he said. He called it "Tommy Fries," and frankly, I thought it sounded pretty damn good.
So, later that day I proceeded to search the internet to find a recipe. I checked TBonz's website and although, it didn't offer a recipe, it did list something sounding ridiculously similar on its Appetizer menu: Tommy Texas Cheese Fries, made from potato wedges, ranch, jack and cheddar cheeses and applewood smoked bacon.
Further internet searching did yield a copy-cat recipe, from someone named "Bogey'sMom," so I used it for my own variation, I call "Tommy Fries."
This dish is a definite hit with guests who always ask me to share the recipe. And, so today, I share it with you!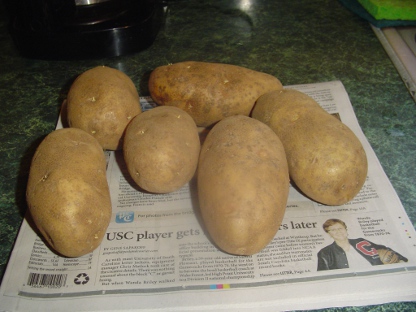 Use 5 or 6 medium to large potatoes. Use any kind you like!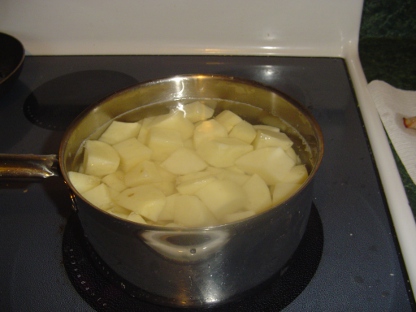 Add a little salt and boil until just tender. You don't want the potatoes to fall apart when you drain them. In the meantime, start frying some bacon.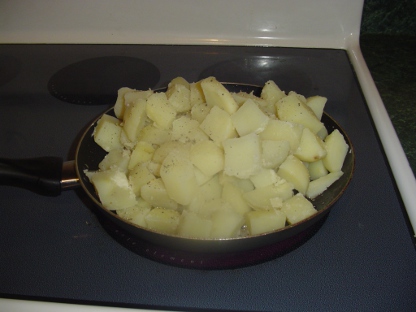 After you remove the bacon from the skillet, add the potatoes to brown. This skillet is a tad too small for all these taters!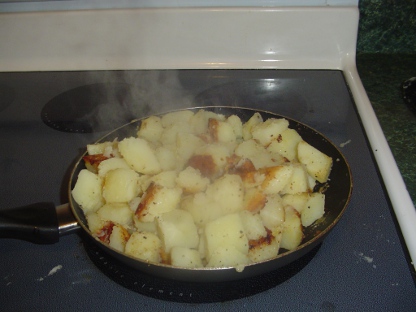 Browning nicely!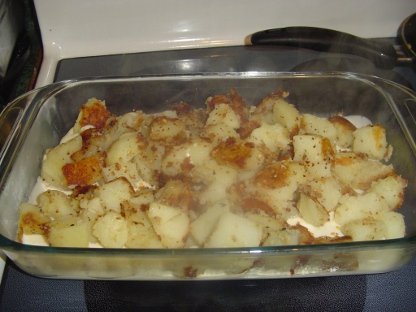 Pour some ranch dressing into the bottom of an oven safe dish and tilt the pan to get the whole bottom of it covered in ranch creaminess. Put the potatoes on top.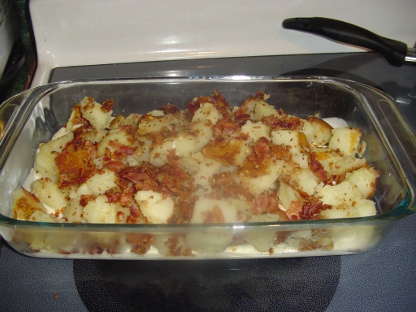 Add crumbled bacon.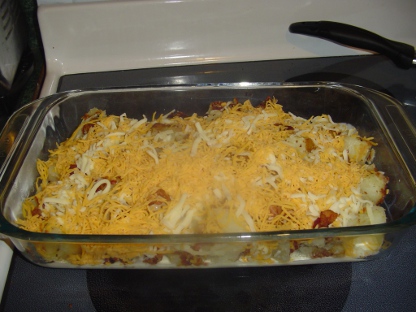 Add cheeses.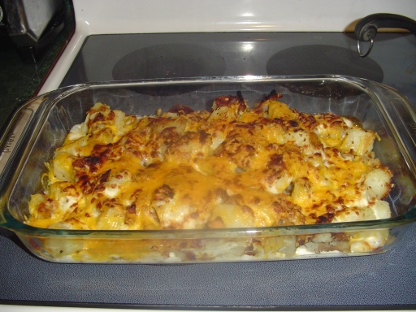 Broil in oven until the cheese melts.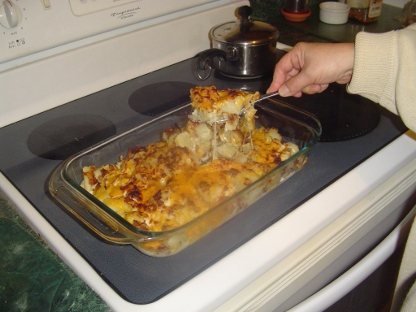 Scrape the bottom of the dish to scoop out all the goodies.
Tommy Fries
Ingredients
½ bottle ranch dressing
½ pound bacon
¼  pound shredded cheddar cheese
¼ pound shredded pepper jack cheese
(sometimes, I use shredded mozzarella. That's the thing with cheese – it's all good)
5 or 6 potatoes
Salt and pepper
Directions
Peel potatoes and cut into large cubes or wedges and boil until just soft. (You can opt to boil the potatoes with their skins on and peel after they cool, if you want, or leave the skins on!)
Drain and season with salt and pepper.
In the meantime, fry bacon until crisp. Crumble bacon and set aside.
Brown cubed cooked potatoes in the bacon grease until nicely browned.
Pour ranch dressing into the bottom of an oven safe platter.
Add potatoes on top of the dressing.
Add crumbled bacon and cheeses.
Broil for a few minutes in the oven until cheese melts and everything is gooey.
Enjoy