I've been seeing a lot of magazine articles and pins on Pinterest about outdoor rooms lately. While some are very pretty, they've got nothing on me!
In the spring, after the worst of the spring pollen is over, I spend a weekend (or two or three) making my outdoor room on the back deck.
The deck is one of the features I really liked when we bought our house out here in rural Lowcountry 10 years ago.
I like that it is under roof. I like that it is a nice size for entertaining and chillaxing (13 by 17 feet).
I begin by pressure washing the ceiling and scrubbing the deck. Then, I start planning my design for the season.
I have about 40 house plants that spend the frost season (usually Nov. 1 to Apr. 1) indoors and I am always chomping at the bit to get them outside.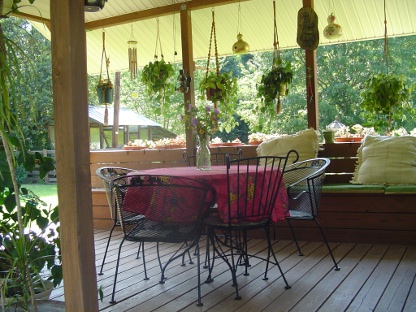 The far side of the deck has a built-in bench, great for extra seating. Brian plans on adding hinges to the bench top so I can use that space to store the outdoor cushions and bird food. Clever idea, huh? I can't wait to replace that round wrought iron table and chairs, but for now, they serve their purpose.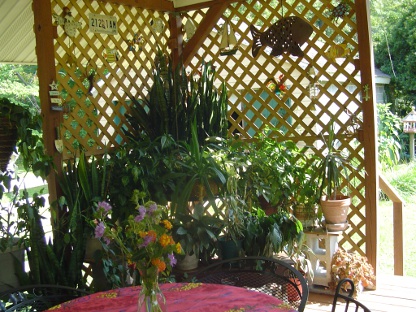 We added two panels of lattice a few years ago to add a little dappled shading and a backdrop for hanging decorations. I use my small bistro table and a few concrete blocks and boards to create a cascade effect in that corner.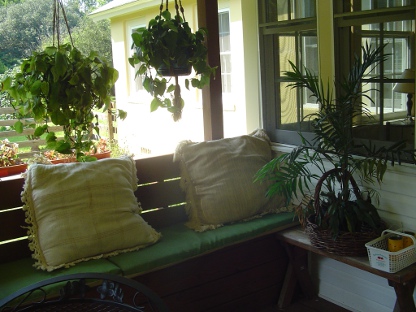 This is a good place to read a book, except in July and August (or today) when it is just too painfully hot in the middle of the day. I'd like to get one of those misting fans to cool it down some. It's on my wish list for next year. Of course, the plants, outdoor ceiling fan and lattice help cool it a bit.
Near the end of October, I start watching the weather reports more closely to determine when the house plants must come back into the house. I plant some pansies in the flower boxes for winter color and then we're ready for oyster roasting season!