It's Christmas Eve as I write this. Brian and I just got home from a round of golf at Holly Hill Country Club.  It was pretty and sunny and a high of 65 degrees today.  I hadn't golfed since May when my sister Pam and her husband, Gary, visited us for their vacation, and boy, it showed!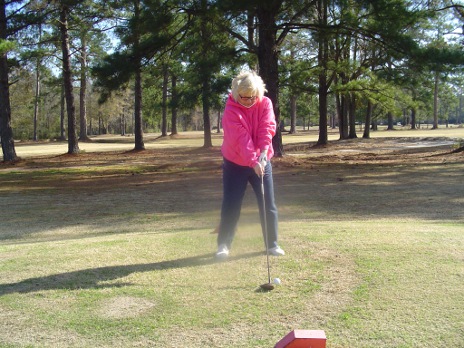 In a nutshell, my golf game sucked. You want to know my score? 129. Yeah, I know, no one scores that! And, it's ironic since I actually had some really great shots, today! Honestly, I can hit a straight drive 150 to 180 yards EVERY SINGLE TIME. I swear. It's my fairway game and short game that pretty much bite! On the worst scoring hole, hole number 7, I hit a fantastic drive, followed by eight additional shots to reach the green. Then, for a surprise, I sunk a 30 foot putt, to finish the hole with a 10! Seriously.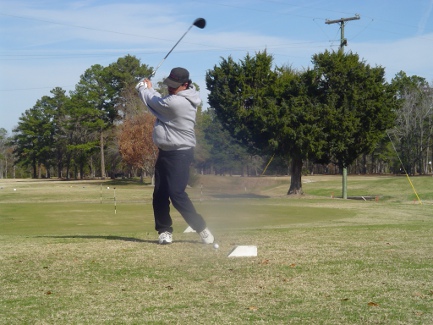 Brian, on the other hand, even with what I suspect is a torn rotator cuff, had a good golf day. He swung his club so gently that the club did most of the work and he eliminated his slice!
If you've ever played at Holly Hill Country Club, you know it's name alone is an oxymoron! Far from country club stature, it's a short nine hole course, with a little club house, swimming pool and tennis courts attached. The fairways are wide open and there's no water that really comes into play. Well, except for today, when I somehow found the water twice. But, it is a great place to practice your short game with only two long par-5 holes. To play 18 holes, you go around the course twice.
Since Brian and I are living on a very limited income these days, and we're basically broke, the golf outing was our Christmas gift to each other.
Now, we're home and in our loungers and spending a quiet Christmas Eve evening watching sports and computing (Brian at the TV and me at the keyboard here with you).
On Christmas Day, Brian and I are spending the day alone together, too. It's just the way it worked out this year. We're okay with that. As a matter of fact, we have a tee time at Lake Marion Golf Course, the only course open, on Christmas day. But, the weather is predicted to get colder on Christmas day and it might rain and since we blew our wad today, we are cancelling that plan.
We are planning a nice breakfast and then later, dinner for two for Christmas day. I'll probably spend some time working on my crafts and Brian will watch bowl games and we'll play computer games. I'm glad he's my best friend!
So, to close, I want to wish all of you Happy Holidays! Merry Christmahanakwanzika or whatever! I don't care who you are or what you believe, you are my friend and if your winter solstice holiday means peace, love, joy, then I wish that for you and yours!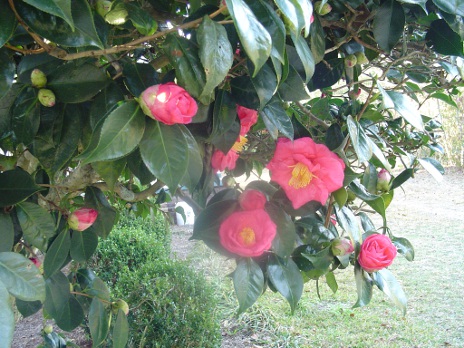 I have three camellias bordering our house. They bloom in the winter. Pretty, aren't they?