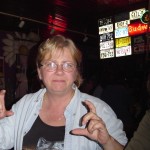 Hi. My name is Cindy O'Neil.
I am a fifty-something, empty nester, married for some thirty odd years to my high school sweetheart, Brian.
We have one child, a daughter, Carrie, who is grown and living with her husband a couple of hours away.
I live in a small, rural town in the Lowcountry of South Carolina. I am near a fresh water lake, Lake Marion, and also not far from the beach and my beloved Charleston.
Brian and I got here several years ago, after our corporate meltdowns, to live simpler, less complicated, less chaotic lives.
I worked at a number of jobs over the years and consider myself a jack-of-many-trades, but master of none. My work careers include (but are not limited to):
Several positions in the financial industry where I was utterly miserable,
Corporate Trainer for a proprietary software company, where I was incredibly happy, and
Editor of two community newspapers, a job I loved, but which was bound to kill me if I didn't quit.
Currently, I work from home, helping mom and pop businesses create and maintain their own websites. I also do freelance writing, and since I am also quite adept at organizing, I help folks in that endeavor, too!
My list of likes is long, which must be a good thing. These are listed alphabetically (as I am a neat freak.):
The Beach (Folly Beach, in particular)
Birdwatching
Bonfires
Butter
Cats  (we have four – Grace, Tess, Tink and Charlie)
Cemeteries (I like talking with the dead; they listen well)
Cooking
Crabbing in the intracoastal waterways
Fishing
Games (poker, Scrabble, Cranium, Charades – anything involving a crowd!)
Gardening
Golfing
Music (Classic Rock, Classical, Alternative)
Mornings
Neatness (nothing better than reaching into the spice rack for marjoram and coming out of the cabinet with, well, marjoram.)
Oyster roasts (goes well with bonfires)
Puzzles (Crosswords, Sudoku)
Reading (I like all genres except Romance)
Sam Dog (our rescue dog)
Scavenging
Star gazing
Sunshine
Thunderstorms
Writing
Yellow (it makes me happy)
My father, mother and brother are deceased. They died at ages 67, 77, and 57, respectively. I have three sisters, all older than me. I am the baby of the family, which may explain why I am the way I am, or then again, may not have any impact whatsoever on the way I turned out.