Or, more precisely,  a little history about the shed.
We've got a few outbuildings on our property.
One is called the workshop. When we first moved here, it had a dirt floor and was, in general, a pretty crappy building. Now, it has a nice solid concrete floor, shelving units, work table and new windows. Brian's man-cave.
Another building is called the plant shack. We began the re-build on it this past summer and it is starting to look pretty good. We hope to complete it over the winter so I can use it for my plant stuff and craft stuff and general woman-cave stuff.
The third building is called the shed.
I don't know a lot about how the shed came to be. It was here when we bought the house 10 years ago. The shed looks very old; some of the wood is rotting and the tin roof is rusted. Amazingly, it stays very dry inside.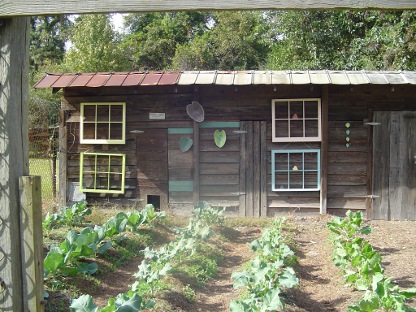 The shed is approximately 10 feet wide by 18 feet long. There are three doors on the front, although two look like they were added later, since they are not framed like the one on the far right.
Inside, the shed is divided into three stalls with concrete floors. At one point the shed was used to house goats, so says my neighbors. And, later, another previous owner used it for his hunting dogs. A high chain link fence kept the animals in.
We first used the shed as a chicken coop. Brian built nesting boxes and a roosting ladder for our dozen laying hens, one of which, turned out to be a rooster. His name was BOB, but later we called him PSYCHO BOB. I have a handful of funny stories I could share about our chicken experience. Maybe some other time. Anyway, we raised chickens for about 5 years before we gave it up. That tiny opening on the far left door is one we cut as an opening for the chickens to go in and out of their coop.
Now, we use the shed for storage. We keep most of our lawn supplies and other outdoor gear in there. Temporarily, I am housing my plant supplies in there, too.
We use the fenced area in the front of the shed for our vegetable garden. FYI, this winter I am growing collards, cabbage, broccoli, cauliflower, Brussels sprouts and sweet onions.
There is a feral cat in the neighborhood that will not let us get close enough to her to catch her and get her to the vet for spaying. She has used the shed as her birthing center four times now. And, although we don't chase them away, when the babies get old enough, she takes them over to our neighbor's house to live with a few other outdoor cats.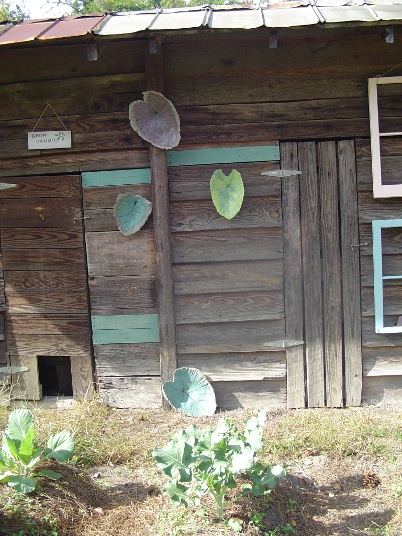 This summer, I started decorating the outside of the shed. I spruced up some old window frames and hung them to add a bit of color. I also tried my hand at leaf casting (making leaves from concrete) and, I've hung a few of my early experiments on the wall, too.
The next project for the shed wall is converting a fan (from an old broken box fan) into a wall flower.
I'm becoming the queen of funky junky.